It All Started on February 2019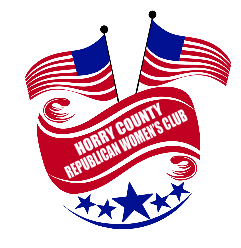 Five women joined together to form the Horry County Republican Women's Club. These women saw the need for a federated club in Horry County. They were Linda Knight, President, Pat Troutman, Second Vice President, Karen Maddry, Secretary, Shelia Lancaster, Vice President, and Lois Moody, Treasurer.
The club was chartered in February, 2019, with 13 members. The ob

jective of the Horry County Republican Women's Club is to be an encouragement to women in Horry County to become more involved in politics: to run for public office, to foster loyalty to the Republican Party, and to promote its ideals and principles.
It will take part in supporting the objectives and platform of the Republican National Committee

and work to support the election of Republican Party candidates. In addition, we, as the Horry County Republican Women's Club, want to inform and educate Republican women and discuss local issues such as veteran's issues and issues vital to women and children. This federated club will also participate in collaboration with any other local, federated Republican women's clubs.
The club meets the second Monday of each month at 11:30, at the Magnolias on 26th. We welcome you to join us.